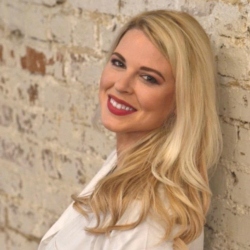 Lindsey Fisher
Esthetician
Lindsey has been an Esthetician since 2016. She has spent the majority of her career in the luxury Spa industry and was a founding service provider when the Hotel Bennett Opened its doors in 2019. She specializes in luxury facials, peels, and specialty facial devices, is passionate about skincare, and loves to share her knowledge with her guests.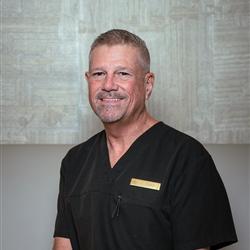 Eddie Varner
THERAPIST
Eddie Varner began his LMT career 20 years ago at The Ritz Carlton New Orleans as a part-time therapist. After Hurricane Katrina he continued to advance at The Ritz Carlton, becoming a trainer, supervisor, and then manager. In 2015, Eddie returned home to Charleston, working at The Sanctuary Spa on Kiawah Island. He later spent a few years at Sasanqua Spa before joining the team at Hotel Bennett where he hopes to stay until retirement.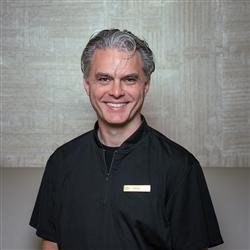 Greg Turpin
THERAPIST
Greg Turpin DC, LMT. After 20 years serving the community as a teacher, massage therapist and chiropractor, Greg has retired from private chiropractic practice and shares his skills part time with local clientele and visitors alike.
Greg holds Bachelor's Degrees in both Theatre (College of Charleston) and Human Biology (Texas Chiropractic College-Houston), a Doctor of Chiropractic (Texas Chiropractic College-Houston) and is certified in Neuromuscular Therapy (CNT). While at the College of Charleston and for a number of years after graduating, Greg worked in the local theater community building sets, acting, and stage managing productions at The Sottile Theatre, for Spoleto and also constructed sets and acted for major film productions locally. He taught Neuromuscular Therapy, including anatomy and physiology, postural assessment and gait analysis for eight years and was Dean of Academic Affairs at a local massage therapy school, while also having a successful practice as a licensed massage therapist. He was Valedictorian of his chiropractic class, class president, and clinical teaching assistant at Texas Chiropractic College. He has been dedicated to perfecting his skills in soft tissue therapies for decades.
Whether you're looking to soothe aches from travel or just relax, Greg is committed to sharing his expertise to elevate your experience.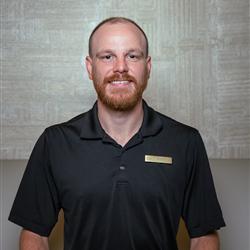 Austin Errthum
THERAPIST
Austin is a Charlestonian with an energetic personality and desire to help others. After graduating from The Citadel with a health, exercise, and sports science degree in 2011, he continued to expand his expertise by completing yoga teacher training and providing yoga for medical facilities. He was given a great opportunity to work in orthopedics for multiple years following. In 2018, he graduated massage school and started his professional massage career.
Austin is trained in many modalities such as Swedish massage, Trigger point therapy, neuromuscular therapy, and he practices cupping. He blends these techniques with his experience to create a custom massage for each of his guests, assisting with medical ailments, postural reintegration, range of motion issues, and providing relief with everyday stressors.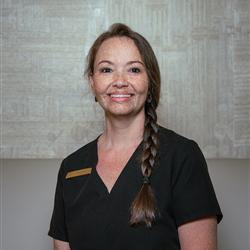 Amanda Jackson
THERAPIST
Amanda began her career as an esthetician and massage therapist in 2008. She currently practices LMBT, and before moving to Charleston last year she resided on Hilton Head Island. Amanda's accent is distinctive of where she grew up in Lumberton, North Carolina, and she is incredibly grateful for her two adult children and her grandson.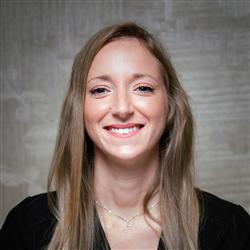 Lauren Volko
THERAPIST
Lauren's compassionate, nurturing spirit and passion for helping others is what led her to her career as a Licensed Massage Therapist. She has been practicing since 2011 and has an Associate Degree in Massage Therapy. She strives to go above and beyond to attend to each client's individual needs while creating a warming presence and welcoming environment for each of her sessions.
Lauren is a mother, who is born and raised in Charleston. In her free time, she enjoys spending time with family and friends, going to the beach, visiting local markets, and seeing live music.
Annette Manigualt
THERAPIST
Since graduating Magnum Cum Laude from Miller Motte Technical College 17 years ago, Annette has mastered techniques in advance therapeutic massage including Swedish, Therapeutic, Intensive Muscles/Deep Tissue and Prenatal. She strives to help each client loosen their overworked muscles to achieve total relaxation.
As a mother of one son and grandmother of three, Annette's love for family is shown through in her passion for work. She treats her clients with individualized nurture and care so that each can leave her session feeling like a brand new person.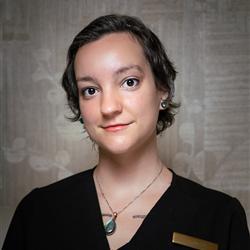 Amber Derby
THERAPIST
Amber brings over 13 years of experience to each of her massage sessions. She followed up her primary studies in Chicago at the Soma Institute of Clinical Massage Therapy with an Associate's Degree at Pacific College of Oriental Medicine. It was at Pacific College that she fell in love with Eastern bodywork and theory including Thai Massage, Shiatsu, and Tui Na. Amber's technique is a blend of both schools. Her Western bodywork focuses on myofascial work and sports massage which has improved performance of the athletes she has worked with, as well as restoring range of motion and function of the body post injury and surgery. This is a perfect complement to her Eastern bodywork which promotes balance to both body and mind as well as elevating a sense of overall wellness. This work focuses on stretching, channel and point work, and Eastern theory.

Her passion for education led her to teach massage and science classes both in Chicago and here in the Charleston area. In the years that she taught, the highlights were using her fusion of bodywork to lead and supervise her students in the medical tent at a Chicago Marathon, Charleston's own Cooper River Bridge Run, and even demonstrating orthopedic assessment and massage on several of our Charleston Stingrays players. This passion has carried over into her practice translating to client education of kinesiology and self-care.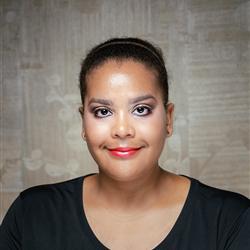 Cheyenne Outten
COSMOTOLOGIST
Cheyenne has been a licensed beauty professional in Nails and Esthetics since 2012. She specializes in mani/pedis, foot massages, skincare, skin physiology and makeup. When she is not busy learning about new beauty techniques and trends, she enjoys reading, cooking, and dabbling in dermatology, cosmetolgy, linguistics and etymology.